NA Interns Impress Judges with Summer Projects' Business Impact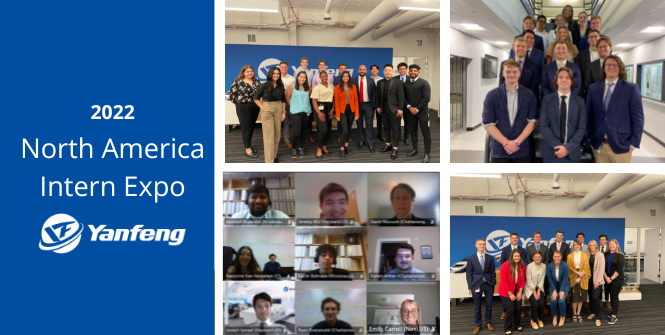 Sixty-two students were welcomed to Yanfeng this summer as interns working across North America in our plants and technical centers. Representing dozens of colleges and areas of study, each was integrated into Yanfeng's teams, campuses, and processes and tasked with a project that would provide real-world experience that could be applied to students' careers post-graduation. As summer comes to an end, students had the opportunity to present the details of their project to a panel of judges from across the business during this year's Intern Expo, an annual event that brings together students and Yanfeng leadership.
"The Intern Expo is the most exciting part of the Summer Internship," said Director of Advanced Quality, Marilyn Clark, one of this year's judges. "Getting the opportunity to see the interns display what they have worked on in the last few months is where we see first-hand their creativity, passion, and energy for the professions they're pursuing."
Presentations were hosted at our Novi Headquarters, Southview Tech Center, Highland Park Plant, and virtually over the course of several days as students competed for the Best Presentation, Best Demonstration of Business Impact, or Best Display Award.
"The Yanfeng internship program gives students the opportunity to both understand the business, but also contributes toward the success of operations," said Patrick Messock, Director of Engineering. "The interns' presentation skills and detailed knowledge of the business were very impressive. As a judge, it was difficult to differentiate those that stood above the rest since so many interns contributed in such meaningful ways!"
For some of the judges, the experience was a full-circle moment.
"I was a YF intern once upon a time," said Plant Operations Manager, Selase Asamoa-Tutu. "To be a judge this year is extra special. It's great to see our program giving interns real-world experiences they can take with them or that they'll bring back to the business if they continue working with us in the future."
Thirteen students from this year's cohort were awarded for each of the three categories, recognized for the impact of their projects, innovative ideas, and strong delivery.
Congratulations to this year's winners!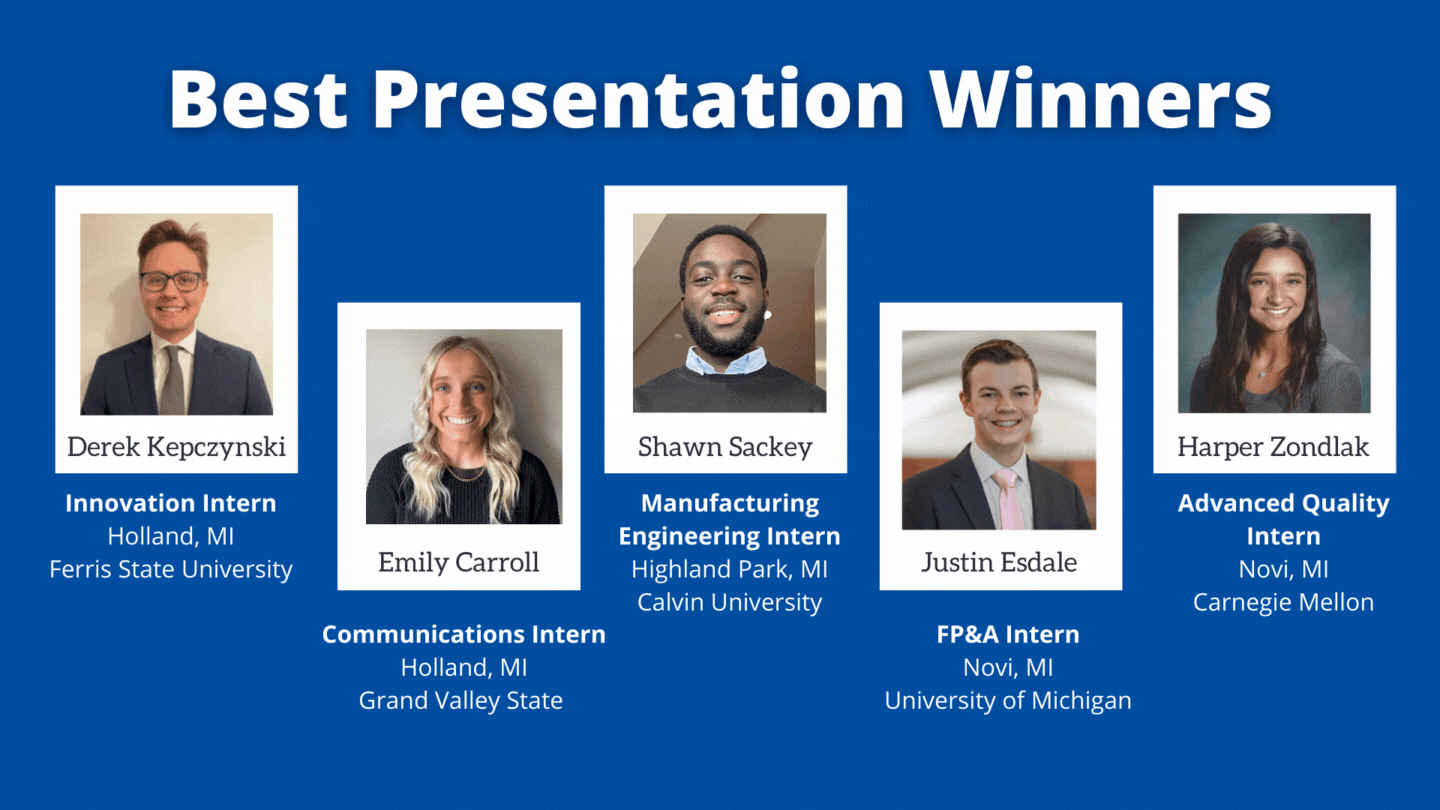 Southview Technical Center – All Functions
Best Presentation: Derek Kepczynski, Innovation Intern, Holland, Ferris State University
Best Display: Alana Sabene, Finance/CS Intern, Holland, Grand Valley State University
Best Demonstration of Business Impact: Devin Smith, Program Management Intern, Holland, Grand Valley State University
Novi Headquarters – Technical Functions (Engineering, Advanced Quality, Innovation, etc.)
Best Presentation: Harper Zondlak, Advanced Quality Intern, Novi, Carnegie Mellon University
Best Display: Sarah Saab, Industrial Design Intern, Novi, Wayne State University
Best Demonstration of Business Impact: Harper Zondlak, Advanced Quality Intern, Novi, Carnegie Mellon University
Novi Headquarters – Business Functions (Human Resources, Supply Chain, Finance, etc.)
Best Presentation: Justin Esdale, FP&A Intern, Novi, University of Michigan
Best Display: Justin Esdale, FP&A Intern, Novi, University of Michigan
Best Demonstration of Business Impact: Larsen Seely, Account Management Intern, Novi, Florida State University
Virtual – All Functions
Best Presentation: Emily Carroll, Communications Intern, Holland, Grand Valley State University
Best Display: Cedric Landtmeters, Quality Intern, Mississauga, University of Toronto
Best Demonstration of Business Impact: Kurt Wittler, Materials/IE Intern, Chattanooga, University of Tennessee- Knoxville
Highland Park – All Functions
Best Presentation: Shawn Sackey, Manufacturing Engineering Intern, Highland Park, Calvin University
Best Display: Dylan Winnberg, Manufacturing Engineering Intern, Highland Park, Bob Jones University
Best Demonstration of Business Impact: Trey Plichta, Manufacturing Engineering Intern, Highland Park, Oakland University